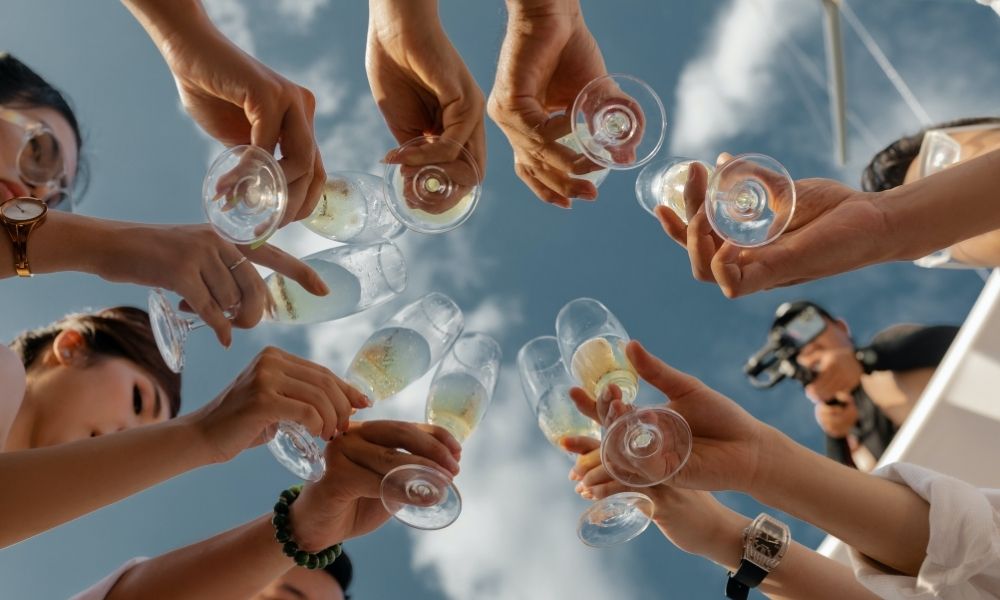 There comes a time in your life when you'll probably feel like you're being invited to another hen's party almost every week. These celebrations will likely come in all shapes and sizes, but they'll all share something in common – it'll be an unforgettable experience with your nearest and dearest lady friends. 
We're all about having fun and making the most of your time together, so there's gotta be a few boundaries in place. It's better to establish these basic etiquette tips from the get-go so that everyone is on the same page. The result? The soon-to-be-bride will feel just as special as she deserves, and every single partygoer is still raving about your shindig on her 30th wedding anniversary.
Top 5 Hen's Party Etiquette Tips 
Do remember that it's about the bride
We get it – hen's parties are exciting! How often do you get all the ladies together in the one place for a night of no-responsibilities and action-packed fun? It's okay to get carried away in the excitement of the moment, as long as you remember why you're all there in the first place. This hen's party is in honour of the soon-to-be-bride, and that means she deserves to be the centre of attention. 
You also want to make it a night for the bride-to-be to remember, not one that she wants to try and forget. It's your job to keep everyone on track and ensure no-one does anything that the woman-of-the-hour isn't comfortable with. 
Don't blow the budget
As the maid-of-honour, it's your responsibility to tee-up a celebration that will be remembered for years to come. You'll likely be organising a hens weekend that needs to cater to the interests and personalities of a variety of different people, and you need to consider that everyone will have a different budget in mind too. It's all very well and good if you can afford to jet around in a helicopter, drop a few hundred dollars on cocktails every night and splurge on an entire day of retail therapy, but that doesn't mean everyone will be on the same page. There is a range of hens night ideas and activities for all budget sizes.
We suggest making the budget an open topic of conversation from day dot so that everyone has the opportunity to have their say and flag any issues before they arise. The best way to chuck it out there is by sending a message in your group chat, or even creating a poll for people to vote on different price brackets.
Don't overdo it 
Hen's parties are practically synonymous with loud, OTT nights and a free-flow of alcohol – especially when the drinks are sipped through questionably shaped straws. We don't blame you for hooking into the espresso martinis and margaritas, but you must know your limit. And that doesn't mean stopping when you're sitting by the toilet bowl in the early hours of the morning or when you're sent to bed at 8pm for causing too much of a ruckus. 
After pouring so much time and energy into putting the party together, you want it to be a memorable night for all the right reasons. While it's essential to keep yourself in check, try not to encourage others that don't need it either. There is no point ordering four more jaeger bombs for everyone if they're already using the wall to hold themselves up.
Don't get too comfortable with the pole 
We're all guilty of succumbing to the confidence boost that comes with one or two, or five cocktails – especially when you're surrounded by all the girls. While we're all for making the most of this new-found confidence on the dance-floor, we've seen oh-too-many ladies that take it a smidge too far with their nightclub pole dancing. You might feel like a graceful, Beyonce-inspired dancer, but we can assure you that you don't look like it. Your friend's Hen's party is not the time to kick start your twerking career – unless you'd like to break your back in the process?
Do find the perfect gift
While gifts are not expected, it's a lovely way to show the soon-to-be-bride just how much she means to you. Plenty of women these days create a hens party registry (similar to a bridal gift register), which makes your job of finding the perfect gift a little easier! 
If you're dealing with someone that isn't quite as explicit with what they would like, or if she's insisting that she really does not need anything, why not opt for a small keepsake? You can get the rest of the gang to chip in a few dollars and get her something really special. It could be a nice piece of jewellery, an artwork or even a post-wedding getaway for her and her partner.